Category:
Uncategorized
Dynamic User Directory (free)
This lightweight plugin creates an alphabetically sorted front-end user directory displaying the user meta information you specify. It can show avatars, mailing address, email address, website, phone, or any other user meta information you wish. It is highly customizable, easy to configure, and fully compatible with the Cimy User Extra Fields plugin as well as any custom user meta plugin that stores its fields in the wp_usermeta table. Download: https://wordpress.org/plugins/dynamic-user-directory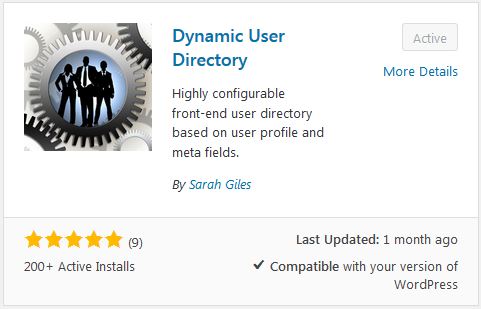 Dynamic User Directory Add-Ons
Below is an expanding suite of add-ons to extend your user directory. Simply click the PayPal button below the item you wish to purchase. Upon completing your order, you will be prompted to download the zip file. Please note that it may take a few moments for the PayPal window to close and the download prompt to appear. To install, extract the plugin folder, place in your WordPress plugins directory, and activate. I provide free lifetime support and updates sent straight to the WP plugin page as needed.

Note: Dynamic User Directory currently supports only the English language. This will be changing soon!
---
Alpha Links Scroll ($4.00)
This add-on displays alphabet links on the Single Page Directory that will smoothly scroll to the matching letter divider.* No more manual scrolling and scanning a long list of names to find the desired letter. Users can simply click on a letter link at the top and let the browser do the work. The result is both user-friendly and visually impressive!
Alpha Links Scroll Demo
[wpepdd name="Dynamic User Directory Alpha Links Scroll" price="4.00″ url="http://sgcustomwebsolutions.com/wp-content/DUD-alpha-links-scroll/dynamic-user-directory-alpha-links-scroll.zip"]
*Note: Your Single Page directory must be set to display letter dividers for the scrolling to work.
---
Meta Fields Search ($6.00)
This add-on provides powerful search capabilities, allowing viewers to search the directory by any user meta field(s) you specify in the settings. After installation, the Dynamic User Directory settings page will contain a new "User Meta Search Field Settings" section at the bottom for configuring up to fifteen search fields. Required: Dynamic User Directory 1.2.6 or later.
Demo Example #1 - Single Page Directory w/multiple search fields
Demo Example #2 - Letter Links Directory w/one search field
Screen Shot of the Admin Settings Page
[wpepdd name="Dynamic User Directory Meta Fields Search" price="6.00″ url="http://sgcustomwebsolutions.com/wp-content/DUD-meta-flds-srch/dynamic-user-directory-meta-flds-srch.zip"]
---
Alpha Links Scroll & Meta Fields Search Combo ($8.00)
Super-charge your user directory and save! The Alpha Links Scroll add-on is 50% off when you purchase this combo package containing both the Meta Fields Search and the Alpha Links Scroll. Each of the two folders included in the zip file is its own plugin and should be placed directly into your plugins directory.
[wpepdd name="Dynamic User Directory Scroll & Search Combo" price="8.00″ url="http://sgcustomwebsolutions.com/sgcws_dev/wp-content/DUD-scroll-and-srch/dynamic-user-directory-scroll-and-srch.zip"]
---
Multiple Directories (Release Date: May 22, 2017)
In the free plugin you can only create one instance of the Dynamic User Directory. This add-on will allow to create multiple instances of the directory on your website, each with its own display settings.
Sneak Peek: Admin Settings Screenshot
[wpepdd name="Dynamic User Directory Multiple Directories" price="5.00″ url="http://sgcustomwebsolutions.com/sgcws_dev/wp-content/DUD-multiple-dirs/dynamic-user-directory-multiple-dirs.zip"]
---
[democracy id="2″]
---
Many hours of work went into creating the free Dynamic User Directory plugin. If you have found it useful, please consider supporting its ongoing improvement with a small Paypal donation. Thanks so much!